It automates the tracking process and manages warranties of the products throughout its lifecycle. Warranty Management Software offers business users complete information about product quality, warranty claims data and supplier recovery that is returning expenses and returning damaged products to suppliers. The key features of the software include parts, contracts, returns, and claims management. The latest warranty management software comes with business intelligence features that can diagnose and avert warranty fraud.
By using warranty management software, stakeholders comprising service providers, suppliers, end-user customers, and manufacturers can cooperate to improve product quality, improve customer experience, and reduce warranty expenditures.
How Does Warranty Claim Management Software Works?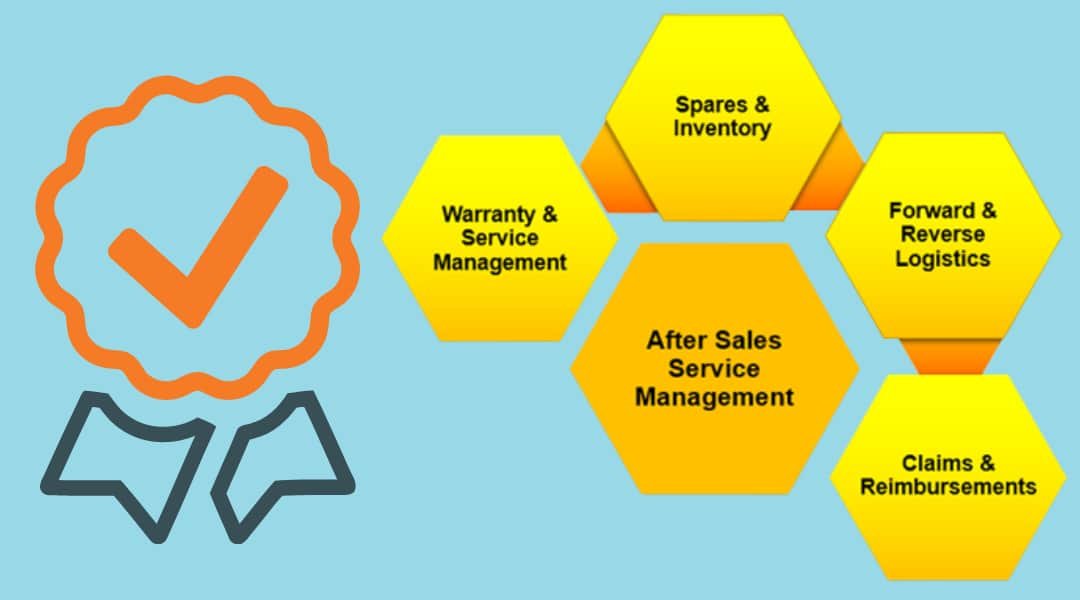 Warranty management software auto-generates claims, integrates information into the claim templates through mobile feeds and diagnostic devices. Moreover, it also supports return material authorization or RMA, live tracking, authorization of return, registration of stock, and more. The application serves exceptionally in enhancing the product's quality, maintaining claims, improving customer satisfaction, and processing claims.
Centralized Warranty Information
Warranty management software assist in keeping every information associated with the product's warranty on a single cloud platform. It manages in a centralized platform where it could be accessed at any time and from any place.
Enhances Coordination
As the application streamlines the entire process and centralizes necessary data, it improves the organization between the service engineers and service managers.
Process Automation
It assists to automate the entire warranty management process in such a way, it becomes streamlined and turns out systematic.
Get Competitive Benefit
A customer can be satisfied by offering proper after-sales support. Warranty management software offers all the tools that help in after-sales support. It results in customer loyalty. One satisfied customer can attract more customers.
Warranty Ending Announcement
It helps you in tracking the warranties that are expiring in around thirty days. The applications help in selling Annual Maintenance Contract to customers and thus generate revenue for the organization.
Enhances Customer Service
The application coordinates with the after-sales support players and thus, they can offer effective solutions to customers, having more satisfied customers.
Common Problems With Tracking And Managing Warranties
The warranty process includes various things like identifying warranty coverage, managing product registration, viewing associated issues, and tracking claims management. In several organizations, claims procedures and warranty services are handled internally. So, it influences various departments ranging from the supply chain department to customer service. There are chances to face issues when the entire organization is not using the same application or viewing the same information. Some of the common problems faced by manufacturers are as follows:
Interdepartmental Communication
If you are handling several moving parts, it is important to track interdepartmental communication. When a product team has sorted out an open issue with a particular customer, the customer service representative should see that the customer contacts again.
Mobile Accessibility
Apart from field technicians and customer service, not every member of the organization would view customer, case data, and account details. If a customer approaches you when they face an issue in your product, you should be able to access their data in real-time from any place.
Product Improvement
If the manufacturers are not able to analyze product failures and track recurring problems, there are chances for them to miss the opportunity to do developments to their products.
Disparate Visibility And Data
Several manufacturers utilize different applications for managing customer service and tracking inventory. The lack of perceptibility into customers, products, and their connected cases and warranties could negatively influence product confidence and customer satisfaction.
Customer Service
If a customer calls to register a complaint, you have to look at various databases to determine answers about their preset case or product warranties, resulting in serious delays in issue resolution and response time.
Manual Processes
Time taking administrative tasks such as data entry need sufficient resources. It can result in errors and inaccuracies. It has chances to affect the ability of the customer service representative to resolve any issue or offer the right information.
Warranty management software enhances the integrity and quality of warranty information by authenticating all features of privileges with wide-ranging business rules and incorporating information feeds from diagnostic and mobile devices into warranty claim forms directly. The application takes care of the approval of returns, tracking of returns, and generation of RGA/RMA or returns material authorizations. The warranty tracker assists suppliers and manufacturers to cooperate on reducing warranty expenses by handling supplier warranties for parts and components.
How To Choose A Warranty Management Solution
Advanced Warranty management software is developed on the cloud and thus serves as a package. The best part is there is no need to have a dedicated IT team to take care of the system or invest regularly in software. As a user of Warranty management software, you have to pay for the subscription and the system will be up and running. Besides, you should see that the service provider focuses on certain key components for better warranty management applications.
Service Contract: It manages contract reconciliation, contract management, claims management, performance visibility, revenue recognition, invoicing, and scheduling services.
Supplier Recovery: The functionality assists in to complete range of suppliers and about the parts that have been distributed. When facing events such as malfunction, quality issue, repair, or replacement, the systems help in determining the supplier of that particular component and recover expenses effortlessly and quickly.
Parts Return: It involves managing reverse logistics like return merchandise authorization (RMA), parts tracing, parts diagnostics, and personality.
Warranty Intelligence: It utilizes dynamic analytics and activates early indications of fraudulent claims and quality problems. Analytics assists forecast, estimate, and maintain the best warranty reserves. The performance metrics and dashboards make it simple to rate as well as know the whole network of dealers, service providers, and suppliers by considering their reliability, cost, and quality.
Extended warranty: This component consists of functions such as claims management, renewal, cancellations, modifications, quotations management, sales promotions, and dynamic pricing.
Claims Management: It facilitates the submission of pre-authorization, claims, monitoring for duplicates and fraud, crediting and adjudication, and automated processing.
Warranty Administration: It monitors campaigns, warranty registrations, contracts, policies, and rates.
These functions work smoothly and cohesively when the application is developed on a vigorous platform with correct intelligence. Data warehouse integration, workflow engine, and dynamic business rules are important for performance and quality.
Real-time customer engagement and active warranty lifecycle management need agile or highly intelligent warranty management systems. It can help in reducing warranty expenses and reserves. Moreover, it improves warranty forecast accuracy, speeds supplier recovery with accurateness, and forecast suspicious claims like warranty fraud. Before purchasing a warranty management software, it is necessary to discuss these components with your software provider.
Advantages of Warranty Management Software
Warranty management software helps companies to automate claim processing according to the company or business rules and reduce data entry by sharing warranty, customer, and product information automatically. It helps in managing and maintaining a combination of claim types like used product warranty, parts warranty, extended warranty, and standard warranty as well as recalls, campaigns, and goodwill.
It improves business performance, service contract expenses, and reduces warranty. It also enhances product quality through predictive analytics, fraud detection, and warranty analytics. Warranty management software can be integrated with financial, ERP, and several other enterprise systems utilizing standard web solutions to permit seamless warranty processes.
Why Invest in Warranty Management Software?
Investing in good warranty management software can help any company in managing warranty claims which lead to improvement of customer relationships. Some company manages their warranty manually through mail, fax or software that does not have a specific interface for warranty management. The process takes time and also has a high chance of error. A Good warranty management software or system can help with the following tasks:
Improved Customer Satisfaction
Customers utilizing warranty tracking applications are satisfied and happy. It helps customers in a simple claim process, offers clear visibility, improved product quality, and quicker payout.
Time Management
The application enables better management of parts returns and time as well as multi-level alignment of service centers and dealers.
Enhanced Stakeholder Satisfaction
It assists in seamless teamwork between internal business function, third party administrators, service providers, suppliers, OEM, service centers, partners, and dealers.
Process Improvement
With the application, the user can determine the reason for failure patterns, thereby assist to streamline practices for results. It assists in managing and generating custom reports quickly. It lets the users track inventory status.
User Friendly And Efficient
It assists in fixing travel rates, labor rates, and various miscellaneous rates such as markups and discounts. It manages and creates dynamic business policies on processing rules, claims entry, supplier contract terms, and routing. It permits the users to update relevant and new policies and manage warranty policies to process claims consequently.
Enhance Product Service Quality
Warranty management software reduce cycle time for supplier recovery, documentation of emerging problems, parts return, and claim processing problems. It increases profitability and revenue from parts, service, and maintenance and makes sure quick processing by authenticating claims information and permitting rich content to get captured.
Faster Claims Process
The application's closed-loop approach assists in streamlining the claims procedure and condenses operational discrepancies. The application assists to track the contracts through the merchandize lifecycle and assist in minimizing warranty prices and optimizing product evaluation.
Decreased Operational Cost
Warranty management application enhances client satisfaction and product quality, fosters cooperative solutions, improves partner relationships, and addresses quality considerations, thereby improving bottom-line results and operational potency.
Decreased Fraud Claims
Policies and processes are incorporated into business logic. Effective processes result in the higher perceptibility of warranty information. Integration reduces warranty prices, thereby improving the first error detection method, widening the possibility of the better value of the product.
Features Of The Warranty Management System
Entity Management
Create manufacturers, dealers, suppliers, owners, OEMs, distributors, and several business organizations. Support numerous geographies including territory, region, province, state, and country. Maintain associations between business organizations like security profiles. This way, the distributors and dealers can access appropriate information. View and take care of entities such as suppliers, parts, products, customers, and dealers.
Service Campaign Management
Analyze campaign performance. Approve campaigns by product serial number range, model, and product category.
Returns Management
Facilitate and track product returns and associated processes like cost refunds.
Parts Management
Monitory inventory levels, manage restocking, and track parts utilization. Support supplier expenses and list prices. Maintain and view directories of code tables utilized to look up and validation.
Warranty Claims Management
Deny or approve warranty requests and take care of associated customer communication.
Product Management
Maintain or view product features of products, serial numbers, product information, and product classifications.
User Management
Develop work assignments to users, groups, or organizations. Support multiple languages and currencies. Integrate with user authentication programs to support SSO or single sign-on. Define the access levels and user roles that are valid for your company. Manage functions, views, groups, and users.
Return Material Authorization
Warranty management software provides multiple pre-defined rules and ways for generating RMA. It comes with facilities such as call tag generation, live tracking, scrap note, invoice list, barcode packing, third-party address validation, declaration letter, commercial list, barcode packing, auto-update of a return material authorization status and more.
Besides the above features, warranty management software is launched with several other advanced features for entire warranty associated requirements. Some of the other major features include:
Comment for simple communication amidst external and internal executives
Claim forwarding feature that permits executives to analyze the claim
Pre-defined labor hours, labor rates, product rates
Automatic mail notification for pending claims, drafts, etc.
Maintenance of modification history of labor rates, parts prices, labor hours, etc.
Automatically generated reports for business associated requirements and business analysis
Audit trail for warranty and pre-approval claim that permits users to determine the changes completed at any time
How Zed Axis Can Help You In Warranty Management
Zed Axis offers an online warranty management system that can be customized as per your business size. It permits you to effectively manage, resolve, and measure important metrics thus optimizing expenses occurring from warranty claims. Supported on most browsers and operating systems Zed Axis needs minimal IT support. It permits suppliers and dealers to function with the manufacturer, reduce misunderstandings, and solve issues through improved communication. For more information, get in touch with Zed Axis support. Here – https://zedaxis.com/contact-us/